The "shutdown"
The September 30 deadline came and went. Congress was unable to reach an agreement on a continuing resolution, and non-essential workers were furloughed until a deal can be made. So far both sides are holding firm. Gwen Patton has a great post on the topic, and El Presidente's unwillingness to negotiate, and Pradheep Shanker offers his thoughts as well.
healthcare.gov happened…sort of
The shutdown didn't stop the Obamacare healthcare.gov launch…the site stopped itself. Many who did manage to get through were surprised at the unaffordability of the "Affordable" Care Act. Suddenly opposition to Obamacare doesn't sound so crazy, does it?
Park tries to refuse entry to veterans, fails
World War 2 veterans made an Honor Flight to DC to see the WW2 Memorial, only to find that the privately funded memorial was not just closed but barricaded. The memorial is generally unstaffed anyway…the barricades were just an unnecessary insult. Fortunately, the veterans and some Congressmen simply moved the barricades and went in anyway, despite park staff threatening arrest. (I would LOVE to see a 90-year-old veteran being hauled off in handcuffs…the fallout would be historic.) This morning, the barricades were back AND had been wired shut. Here's to hoping the Honor Flight participants keep tearing down that wall.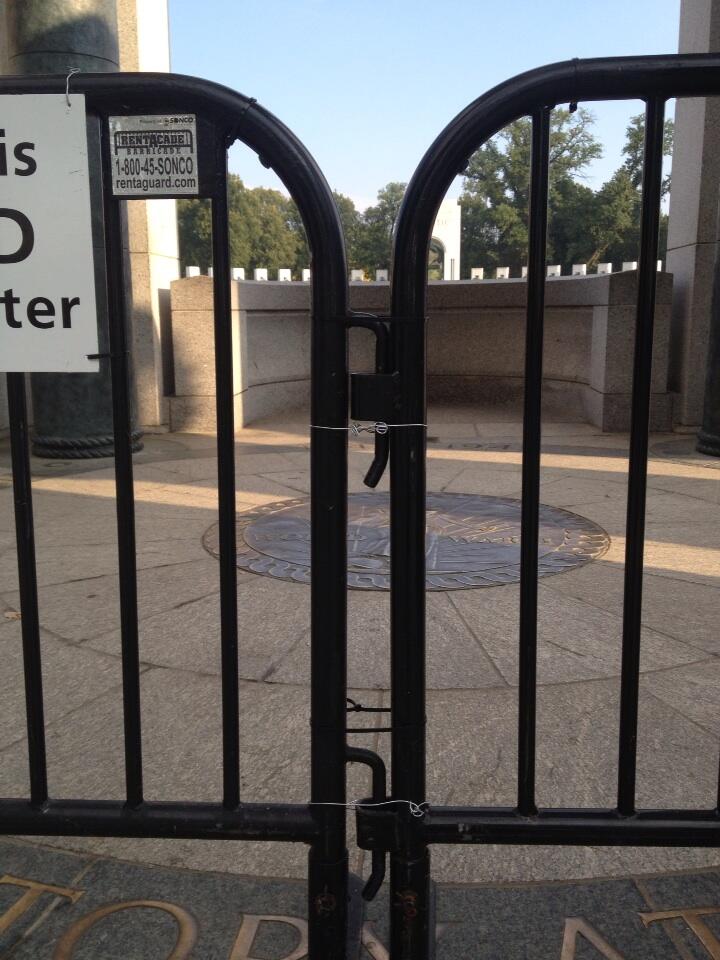 DC Capitol car chase, driver dead
A woman drove her car through outer most White House defenses and was chased by Capitol Hill police. She was shot, and her 1-year-old child was retrieved from the car. ABC Reports: "Authorities believed the dead suspect was Miriam Carey, 34, according to a spokesman for Carey's family. Authorities said she had a history of mental health issues, and her mother told ABC News she suffered from post-partum depression." The only shots fired were from police, but that didn't keep idiots on Twitter from blaming the NRA and the Tea Party. (Come to think of it, nothing ever does…)
A sad story all around. Prayers go out to her family, especially her child.
Abortion Barbie puts on her pink running shoes
CBS News: Can Wendy Davis win the Texas governor's race?
No.
Good news about that Duck Dynasty shirt you just bought
Fox News: 'Duck Dynasty' reigns, but have the Robertsons reached their tipping point?
But has the "Duck Dynasty" frenzy peaked? One executive at a major entertainment company—who wished to remain anonymous—told us the "Dynasty" madness isn't ending anytime soon.

"I feel like 'Duck Dynasty' is a growing franchise. They're on the rise, and now is the time for them to put these products out," the exec said. "The Robertsons are very savvy, and I think they have the ability to play this right so that they can establish a brand for themselves like Martha Stewart, which is an evergreen lifestyle brand."
Happy happy happy.